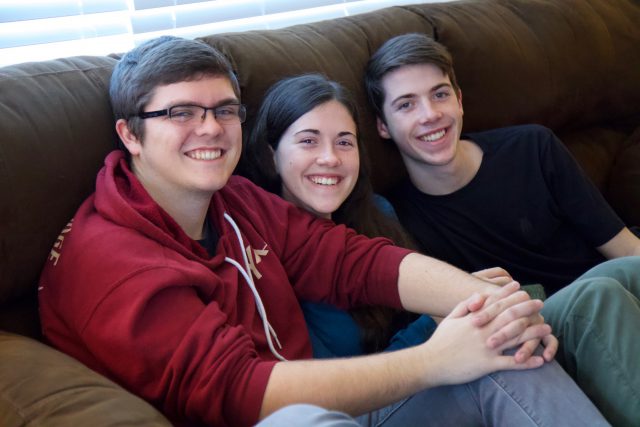 Happy New Year a bit late.   Noel and I enjoyed Christmas with Winter, David, Nathan and his family.   Our time in California was short but we enjoyed every minute.  A few highlights include a trip to an orange grove, a CBU basketball game, and a gingerbread house competition, but most of all it was a blessing to just hang out with our kids.  It was an interesting twist of events for the kids to be taking us to the airport instead of the other way around.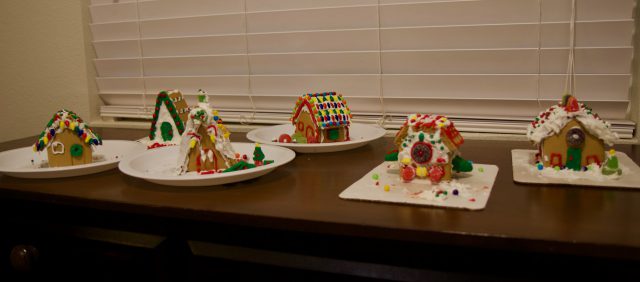 Can you you guess which house won?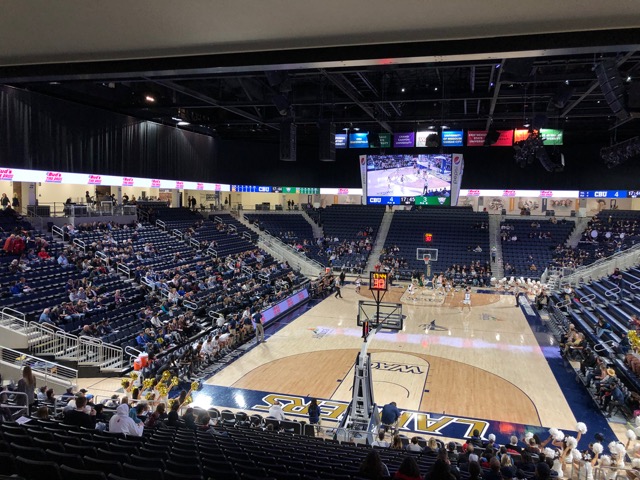 Thankfully it was a good game and CBU won!
Noel and I celebrated New Year's over the Atlantic Ocean getting into Liberia the evening of the first.  It was sad to not be with Winter for her birthday, but her brother took her to a movie and helped make her day special.  We celebrated as a family on the 30th with chicken nuggets, mac and cheese, and Walmart sugar cookies.
So what is going on with the Fouts family?
Noel is still leading his aviation team and doing at least three flights a week to get our projects team where they need to go.  The highlight of his day is the morning devotions they have at the hanger.  It has given Noel a chance to disciple his guys, and he is enjoying seeing them ask questions and grow in their faith.  Noel has also been busy preparing for the new helicopter pilot and his family who will be arriving in the middle of February.
Teresa added two new students to her roster on January 7th.  Her mornings are full of teaching pre-kindergarten, first, and second grade.  Her afternoons are spent helping her 11th grader, prepping for the next day, or recovering from the morning fun.   Her two new students are Swiss and their first language is French.  Their English is good, but we read a lot trying to learn new words.  It has been a challenge but so far, Teresa is enjoying it.
Winter started a new internship at the Disability Resource Center in Fredricksburg, VA.   She will have four months of honing her skills as a sign language interpreter which will complete her graduation requirements for her degree.  In May, she will move to California  just in time to put finishing touches on the wedding planning and set up a new apartment.
David loved his first semester of University and is excited about his classes for this semester.  He is enjoying CBU to the fullest, going to concerts, attending ballgames, camping, and even checking out Disney land.  He has a part time job in the photography department and has enjoyed opportunities to take pictures for school events. Don't worry, he is still getting his studying in.
These next few months are full of transitions for our team.  Our deputy country director is now our country director starting today.  We have two new staff and two interns plus the helicopter family coming in February. Pray that all these transitions go well.  This past week, a local staff member died in a motorcycle accident.  Pray for his family and the team as they mourn his loss.  We did not personally know him but many on our team were close to him.  Lastly pray for me (Teresa) as I teach my four little students.  Pray that we will learn what we need to learn but also have fun.
We hope you all are doing well.  Thank you to those who sent cards.  Your pictures are on my refrigerator.  We are thankful for your prayers for our work here, but most of all for your friendship.  Many blessings,  Teresa for the Fouts