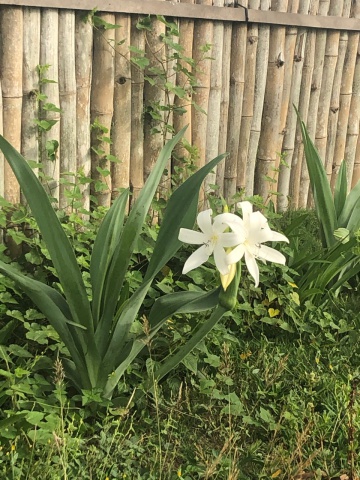 As I write this, Liberia is at 105 COVID cases with almost all of those in Monrovia. As with any place, we are not sure how accurate the numbers are. It may not seem like a lot but there has also been a higher percentage of deaths since many Liberians wait too long to come in for help. We are praying earnestly that the virus will not spread and become out of control. Like many of you, we are staying at home unless there is a need to be out.
Noel still has some flights and work at the hanger two to three days a week. Samaritan's Purse has officially partnered with the Liberia Ministry of Health in order to combat COVID 19 in Liberia. We are training church leaders to teach about proper sanitary practices in the bush to prevent the virus from spreading into villages. We also transport by air potential COVID specimen samples from remote counties into Monrovia for testing.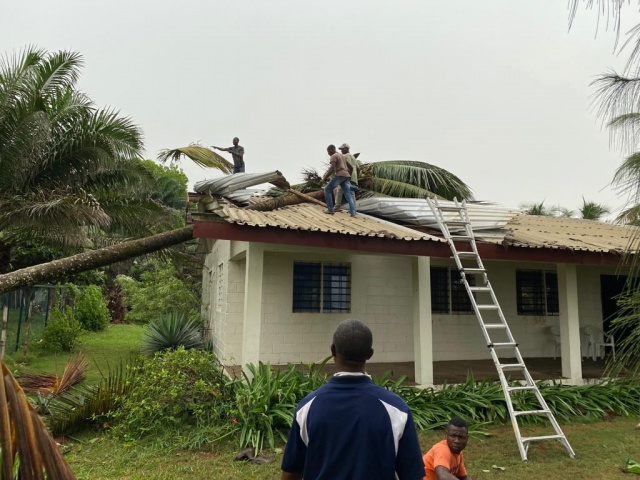 Last Friday night we woke up in the middle of the night to a bad storm that included thunder, lightning, and wind. It was no surprise that our electricity went out, but it was a big surprise to go outside the next morning and see all the damage the wind had done to the campus. Trees were down all over campus with some on the roads, two landing on houses, and others landing miraculously just short of damaging a car or house. Saturday was spent repairing roofs, cleaning debris and chopping up trees. Noel along with a friend spent the day cutting up the fallen trees and limbs. As far as we know, no one was injured. Our dentist had a coconut tree fall on his house but luckily all the water and coconuts fell into the guest room not their room.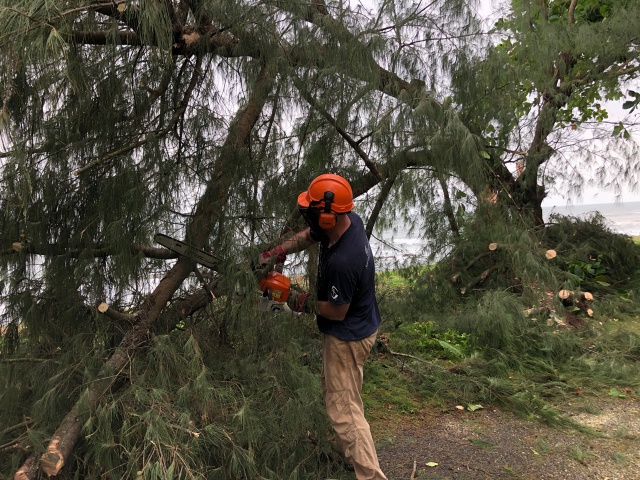 Even with her school closed, Teresa manages to stay busy. One morning this week she had the opportunity to lead the office devotions via zoom. She shared her thoughts from Haggai 2 with a similar message to a blog post she wrote earlier in the month. She with another gal have also been working on clearing out food and other items left at a staff house that had been vacated due to an evacuation. On a fun note, she has also been working on some fabric letters to use up some of her odds and ends of lappa. (Lappa is what the fabric is called here.) And of course, those who know her well can easily imagine that she has been reading a few books here and there.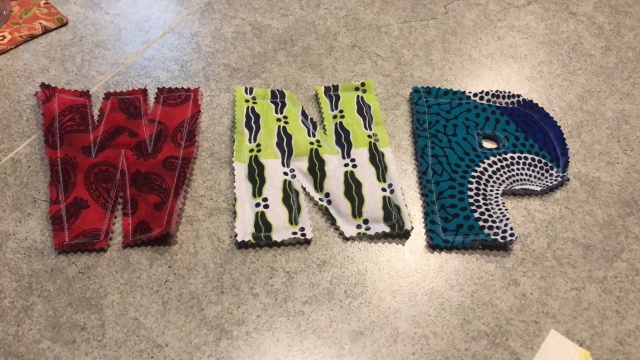 Many of you have asked about our plans for transitioning back to the states this summer. That is still the plan but so much depends on what happens with international travel and countries reopening. The good news is that SP did hire a pilot to take Noel's place. This week Noel handed over his role as aviation director to our helicopter pilot. Since our full time mechanic left, this allows Noel to be able to concentrate on just two roles: mechanic and pilot.
Some days friends and family seem so far away. Other days we feel like we are staying better connected with not only our kids and parents but friends we have not talked to in a long time. We are so thankful for technology that allows us to do that. On Easter, it was a blessing to watch along side so many others our home church's service live. Our prayers are daily with those near and far. We pray not only for protection from the virus, but that God will use this time to refine all of us, conforming us to the image of His son. We would love to hear from you either in the comments or through our email. Blessings!